365 days toward inner freedom and power
If you feel stuck, low, lost, fearful, anxious, frustrated, unmotivated, sad, disempowered,
disconnected from joy, fulfillment, harmony and love - I am here for you!

1-ON-1 MENTORSHIP is an opportunity for you to heal the wounds and fears that are holding you back.
To find your inner power, your security and your peace, so that you can lead yourself.
To follow your inner intelligence, which leads to joy and meaning in life.
To find yourself and true freedom.

My specialty is to change deep beliefs, programs, energy patterns
and heal wounds and fears that hide deep in your subconscious.

I have a multidimensional approach when I work because everything is connected -
mentally, emotionally, physically and spiritually.
I work in a vertical dimension because that is where the deep and lasting changes take place.

Our work together includes mind hacking, hypnosis, deep transformational coaching,
EMDR, energy work and practical actions to create your future.
IF YOU ARE READY TO GROW, I GOT YOU!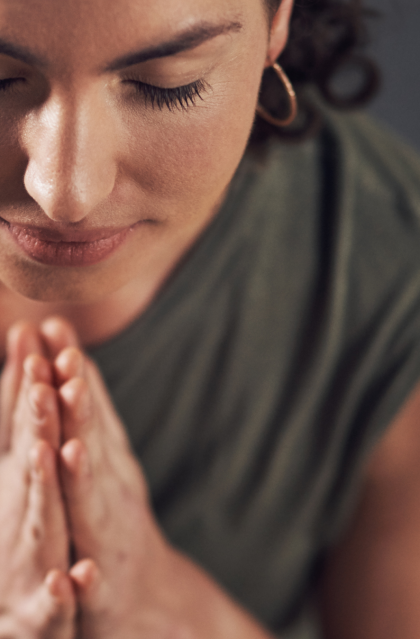 During 365 days I will guide you to:

GET CLARITY AROUND YOUR GOALS.

IDENTIFY AND ELIMINATE BELIEFS THAT HOLD YOU BACK.

RELEASE FEARS, FRUSTRATION, ANGER, SORROW,
PAIN, ANXIETY, GUILT AND SHAME.

HEAL WOUNDS AND RELEASE OLD TRAUMA.

MEET CHALLENGES IN A CONSTRUCTIVE WAY.

COMMUNICATE YOUR NEEDS IN A CONCRETE WAY.

FIND ENERGY AND MOTIVATION TO GROW.

CREATE ACTIONS THAT MOVE YOU FORWARD.

STRENGTHEN THE CONNECTION WITH YOUR
INNER INTELLIGENCE AND YOUR INTUITION.

CREATE CLARITY, INSIGHTS AND DIRECTION IN YOUR LIFE.

BE SECURE AND OWN YOUR POWER.

FIND JOY AND MEANING IN LIFE.
1-ON-1 MENTORSHIP INCLUDES
✔ Start-up meeting to clarify your needs and desires.
✔ 8 x 90-minute sessions IRL or by phone/Zoom.
✔ Checkups and support every month between sessions.
✔ Blueprints on how to put things into practice.
✔ Big Five personality test to understand yourself better.
✔ Homework and continuous follow-ups of your progress.
✔ The book "Mind Hacking for Rebels" with smart #mindhacks.
✔ Customized audio recordings when needed.
The journey is for you who are committed to making real and lasting changes.

YOU invest your time and your commitment, are open to guidance and feedback
and are honest with where you are and where you want to go.

I can guide, inspire, create clarity, give perspective, provide you with tools and help you
find your own inner intelligence, but it is ultimately YOU who is responsible for how you apply it in life.
It is up to you to do the work to create sustainable change and achieve your goals.
PRICE
€ 5.600 / $ 6.800. Invoice with 30 days payment.
A 30-minute conversation about how we can tailor your mentorship.
We make sure that we are suitable to work together and you get more information about the practicalities.
The year with Karin has meant a deep cleansing on all levels in my life. I have changed my way of thinking about a lot in my life. I have gained such confidence. In the past, I often gave up when faced with challenges. Today I muscle through them. I have a sense of peace within me and I have become so much better at seeing all the opportunities that exist. Karin has helped me introduce routines that make my life so much better. I have become a better father, a better husband, a better co-worker, a better friend…
Thomas
.
This is the best investment I have ever made. I've got my life in order. I have changed my job to a workplace that suits who I am today. I have left old relationships and started new ones, where I feel more joy and connection, where we give and take in a better way. I have better self-confidence today and dare more. I have started training regularly and taken up my riding again, which I love. I feel so in balance and I like myself in a whole new way. I would never have managed all this without having someone next to me all the way.
Åsa
.
I have improved my performance, which has led to the company increasing its sales by 20%. I have a clear direction and a focus that I haven't had before. Karin's mentorship is unique.
CEO
.
Today I lead my staff in a completely different way. I am calm, keeping my focus, pushing forward in a good way. My staff has noticed the changes and today I get praise for how I lead. The best thing about Karin's mentorship is that she never lets you out of sight.
Carl

WOW! It feels like I've been showered with insights and filled with energy. I feel immensely grateful for your help and for choosing your mentorship. You're fierce, Karin. You fit me perfectly, your way of working, everything you talk about and pick up, your wisdom and your spirituality. I am more in touch with my true essence. I am in touch with my goals, my "why", my determination. Thank you for helping me clarify. I notice that I am more open - thoughts, words, everything comes to me more easily.
Petra

Having you by my side feels incredibly nice. This is the best thing I've ever done!
Robin

Thank you for being so incredibly good at your job. It has made my life easier and much more enjoyable.
Ida

I'm so happy to have figured out what I want to do in life and have a goal. A year ago, I didn't even dare to think like this and think that I can. The mentorship with you has really made me grow and created a strong sense of self-value within me. I CAN. So happy! Thanks!
Tess

I don't know how to thank you Karin. Feels like a completely new person - a person who has finally fully landed in just being and with a confidence that I will, no matter what happens, always be guided by my values. Your ability to find the real core of feelings of sadness, anxiety and frustration is still something I am very impressed by. I came to you with a definite idea of what was the reason I saw the world in a dark gray shade, but it turned out to be something completely different. Now I walk in life with great confidence that I am just good as I am. If at some point in my life I need mentorship again that really makes a difference, there is only one person I will turn to again, and that is you.
Josefin

A mentorship with Karin is the best investment I have made in my life. To work with myself, release subconscious blockages, gain insights about myself, to have Karin as a sounding board with her sensible words, wisdom, experience and knowledge of the brain and the subconscious, has been and is absolutely fantastic. I have been transformed and found my way back to myself, after all masks and protection I have created through life. I have created a new "I", a stronger self that dares to show who I am, voicing my opinion, say no, listen to my body and act accordingly. Karin has an ability to sniff out what is important, what you need to work with right there and then, in order to grow. My self-confidence is more integrated within me, I have more strength, focus and a strong belief in myself and what I do. I value myself, my time and my priorities higher. I'm important and it's a wonderful feeling, after listening to others all my life. I'm so grateful for Karin's mentorship. She is something out of the ordinary.
Petra

I want to thank you for this year. There are not enough words to describe the meaning to me that our meetings have had. Life-changing, vital and such an awesome development. Thanks!
Jenny

Working with you gives me wings. I'm on my way to become a free soul. Thank you fantastic Karin!
Charlotte

I have all the strength I need. When I listen inwardly and get the answer, I trust it. That is a big difference from before. The book "Mind Hacking for Rebels" has helped me move forward. The more I understand, the easier it is to concretize who I am and what I want. The more knowledge and insights I gain, the more I can share and help others - I love it! Nowadays I follow my energy and curiosity. It's so nice and simple, I don't have to think or hesitate so much. I have released so much old stuff. I understand that I have slowed myself down, made myself smaller and not standing up for myself. Today I have let go of the guilt. I deserve the best. It feels like I have created a new life. I feel so alive, exuberant and powerful. I spend time taking care of myself spiritually, mentally, physically and socially to grow and be able to give and contribute, which are two of my basic needs. I'm more conscious and structured throughout the day. I feel like I'm bubbling and flourishing and so does my business. I´ve got the Power! Hugs, love and gratitude to you fantastic Karin.
Marika