365 days to activate your inner leader
BEING THE BOSS guides you on an exciting journey into yourself and
supports you in activating your inner leader, so that you can create a life you LOVE.

What I know, after over 30 years of leadership experience, +3,000 clients, +25 countries,
is that it doesn't matter how much you want something to happen -
if your mindset, emotions, energy and actions are out of sync,
your chances of realizing your dreams will decrease drastically.

No matter what level of success you are at, your mindset, emotions and energy are
important pieces of the puzzle that need to be addressed if you want to live a fulfilling life.

BEING THE BOSS is about making YOU a leader in your own life.
To feel clear about your goals, inspired, focused, confident, happy and fulfilled,
whether it's about your health, career, relationships or your connection with the Universe.

Our work together includes mind hacking, hypnosis, deep transformational coaching,
EMDR, energy work and practical actions to create your future.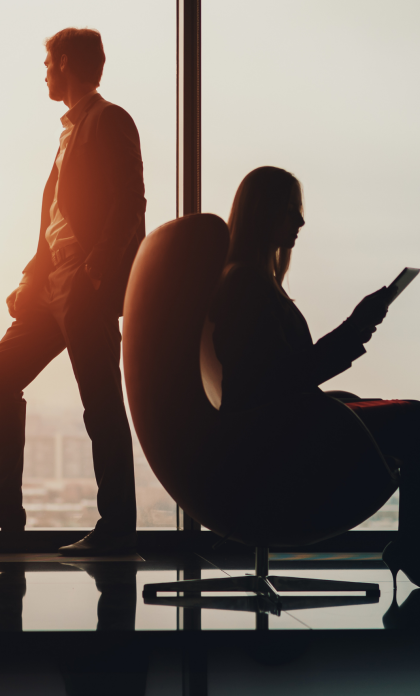 During 365 days I will guide you in:

CREATE CLARITY, INSIGHTS AND DIRECTION IN YOUR LIFE.

CLARIFY GOALS, VISIONS AND CHOOSE THE BEST STRATEGIES.

IDENTIFY AND ELIMINATE BELIEFS THAT HOLD YOU BACK.

RELEASE FEARS, FRUSTRATION, ANGER, SORROW,
PAIN, ANXIETY, GUILT AND SHAME.

HEAL WOUNDS AND RELEASE OLD TRAUMA.

UNDERSTAND THE HUMAN PSYCHE,
BOTH YOUR OWN AND OTHERS.

MEET CHALLENGES IN A CONSTRUCTIVE WAY.

COMMUNICATE YOUR NEEDS IN A CONCRETE WAY.

FIND ENERGY AND MOTIVATION TO GROW.

CREATE ACTIONS THAT MOVE YOU FORWARD.

STRENGTHEN THE CONNECTION WITH YOUR
INNER INTELLIGENCE AND YOUR INTUITION.

BE SECURE AND OWN YOUR POWER.

FIND JOY AND MEANING IN LIFE.
✔ Start-up meeting to clarify your needs and desires.
✔ 12 x 90-minute sessions IRL or by phone/Zoom.
✔ Free amount of checkups and support between sessions.
✔ Blueprints on how to put things into practice.
✔ Big Five personality test to understand yourself better.
✔ ROADMAP for clarity on what you want out of life and a plan to get there.
✔ Breath Coaching to be able to regulate your nervous system.
✔ Homework and continuous follow-ups of your progress.
✔ The book "Mind Hacking for Rebels" with smart #mindhacks.
✔ Customized audio recordings when needed.
Once a month we do a deep dive to remove blockages that hold you back.

Between sessions, you get as much support as you need
for specific situations that arise in your everyday life.

The journey is for you who are committed to making real and lasting changes.

YOU invest your time and your commitment, are open to guidance and feedback
and are honest with where you are and where you want to go.

I can guide, inspire, create clarity, give perspective, provide you with tools and help you
find your own inner intelligence, but it is ultimately YOU who is responsible for how you apply it in life.
It is up to you to do the work to create sustainable change and achieve your goals.
PRICE
€ 13.600 / $ 16.500. Invoice with 30 days payment.
Extra large package (20 sessions) € 18.600 / $ 22.500
A 30-minute conversation about how we can tailor your mentorship.
We make sure that we are suitable to work together and you get more information about the practicalities.
I've had so many hang-ups on different things. To dive deeply into myself for a whole year, has made almost all my hang-ups disappear. I can perform on top, keep my focus better in my roles, and be confident that I am crazy good at what I do. Karin has helped me connect more with my heart, which has added much more depth in my roles as an actor, which I hadn't before. Because my schedule is constantly changing and I travel a lot, Karin's flexibility to coach me when I needed it, and even come to the film location has been great. Actually, I would like to bring her everywhere, all the time.
Actor
.
I have so much pressure on me in different ways, and at one point I almost broke down. Karin has helped me get a distance to a lot of things and to feel how much POWER I actually have. I feel that I have a value as a human being, not just as an artist. I trust myself and my abilities more and more, and I have overcome my fear of going up on stage. Having Karin standing in behind the stage a couple of times has helped tremendously.
Artist

To always have Karin nearby for advice and tips in different situations has been invaluable. Whether it has been about solving conflicts, fire staff, employee evaluations, understanding difficult employees or meeting my own fears. After 1 year with Karin I have decided to hire her for another year. She is my secret weapon.
CEO